Do you remember your baby's first Christmas?
I bet it was magical with an excess amount of cute photos and the most beautiful tree you could set for a perfect photo prop.
But then next year you had a toddler. And they want to touch everything, especially things they are not supposed to touch.
And especially the Christmas tree where everything is shiny and colorful, and appealing.
In other words, having both a toddler and Christmas tree at home can be a challenge and you need to be sure they are both safe throughout the holidays.
As it turns out, however, this is doable even with a wild toddler. So without further ado, here are all the ideas you'll need to make it happen.
This post includes affiliate marketing. If you make a purchase through one of the links I will receive a commission at no additional cost to you.
How to baby-proof your Christmas tree
Add a fence
The easiest way to create a strong barrier between your toddler and the tree is by setting a baby-proof fence and gate.
It will allow you to have a full-sized Christmas tree with all the ornaments you're used to hanging pre-kids and still keep everyone safe, toddler and Christmas tree included.
On the downside, toddlers can be pretty resourceful, so you may think twice about leaving them alone for more than a couple of minutes.
Here are a few ways to add a fence around the tree.
The good thing is that once purchased, you can use this type of fence all year long. It's a great way to give your little one some space to play without the need for constant supervision.
And during the Christmas season, it can be easily repurposed to a fence around the tree.
Ok, this is just adorable so I had to add it to the list. On the downside, it's a rather low barrier so you'll have to tell your toddler they are not to cross the fence and then make sure they listen even when you leave the room.
But still, it's just so festive and beautiful it's absolutely worth it.
3. DIY Gifts blockade
If you have enough time and space, you can make a beautiful blockade made of empty boxes and wrapping paper.
To make them harder to move around and become just another toy for your toddler, consider filling them up with something heavy and durable like clothes, linen, books, or any unshatterable decor that you take down to make room for Christmas decoration.
https://www.pinterest.com/pin/38632509295033838/
Place it out of reach
If the space does not allow for fencing to be installed, you may consider placing the tree somewhere high so your toddler cannot reach it.
Of course, this usually means that you'll have to settle for a smaller tree than you might have planned, but don't worry. You'll have plenty of Christmases for large trees bursting with ornaments.
Should you choose to place the tree on a higher surface, make sure that it's stable and well-secured.
Toddler-proof Christmas tree ornaments
In case you just cannot separate the tree from the living area or you just don't trust the fencing will hold your wild toddler, you may want to opt for an artificial tree and toddler-proof Christmas ornaments.
This way, even if the tree does fall around your toddler (which I sincerely wish doesn't happen to you), they are likely to end with just a scare and no actual injuries.
If you're unable to limit the access to the tree, avoid decorations including:
Glass ornaments, pretty self-explanatory why you should exclude them
Ornaments with sharp or pointed edges, such as stars
Tinsel garlands as they represent a choking hazard
Treats-looking ornaments unless they are actually edible
Lights or anything else connected to electricity
Toddler-proof Christmas decorations
I absolutely love glass Christmas ornaments. I've been collecting them for years and the last couple of Christmas seasons I've looked nostalgically at their box but couldn't bring myself to place them all on the tree.
Instead, I switched to other, more durable ornaments for a while, until there are no more toddlers in the house.
Paper ornaments
The best thing about paper ornaments is not that they are toddler-proof.
It's that they are a great toddler activity and a way to spend some quality time together.
Here are a few ideas for paper ornaments you can create with the kids:
Yarn ornaments
Since everything organic is all the rage in the latest years, yarn Christmas ornaments have been very popular. And aside from being trendy, they are also completely safe for your toddler.
If you want to add a little yarn to your Christmas decor this year, here are some resources for you:
Wooden ornaments
I love wooden ornaments almost as much as I love the classic glass ones because they are both stylish and come in an endless variety of shapes. Here are a few awesome wooden Christmas ornaments to inspire you.
Shatter-proof ornaments
Ok, these are my least favorite because they usually look too plastic and unfestive. Luckily, they started making them better and better every year.
Here are a few sets worth looking into:
Safe Christmas tree alternatives
If you believe a toddler and Christmas tree combo will just not work at your home, you can always find an alternative solution that will invite the holiday spirit without having an actual tree inside.
And if you think that Christmas is just not the same without a tree think of all the benefits:
Your baby and/or toddler will be safe
All your beautiful glass ornaments and family heirlooms will be safe
Highly reduced stress for mom and dad
It's only temporary and babies and toddlers don't need the tree anyway
Felt tree
3D Felt Christmas tree
If you want to replace the Christmas tree entirely, this 3D model can be a perfect solution. And, of course, it comes with a bunch of toddler-friendly ornaments to decorate it with.
Wall Hanging Christmas Tree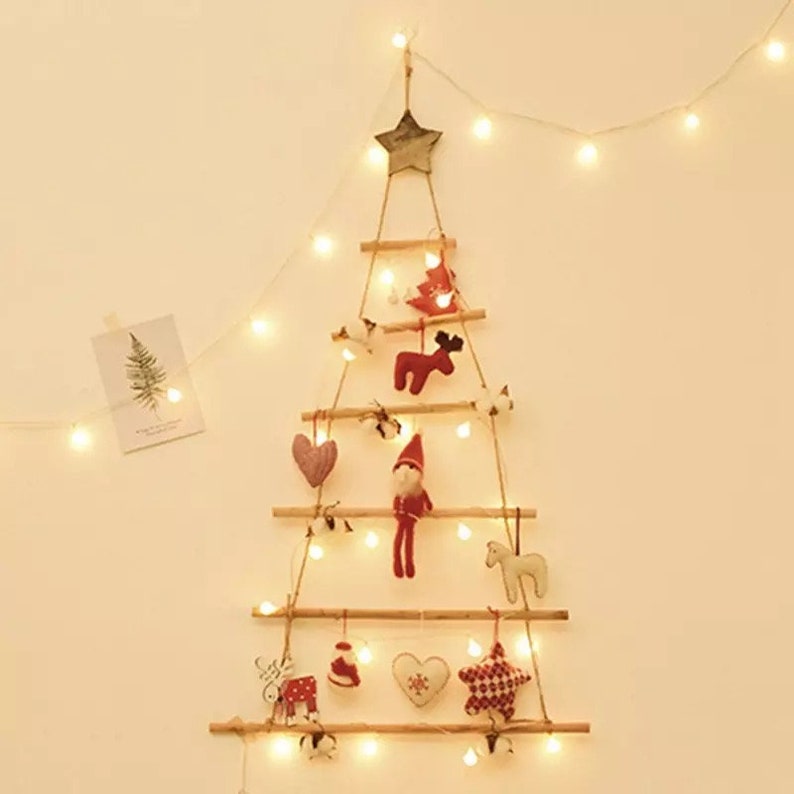 In case you want something completely different, you may consider a minimalistic wall-hanging tree that you can decorate with your favorite ornaments.
Keep in mind, though, that this type of tree is suitable for flat ornaments and classic Christmas balls won't be a good match.
And if you're on a budget, this one is actually pretty easy to DIY.
---
Now give me your tips and tricks, how do you keep the toddler and Christmas tree safe and separate?